Compiled by Dennis B. Horne
Editorial note: the below excerpts from President Kimball's journal were selected because I find them to be extra uplifting and edifying, or otherwise special in some way. I did not include a date with them because when I encountered and chose them I was interested in precious spiritual experience and insight, not scholarship.
Some of these items can be found by using the index and links previously posted as "Precious highlights in President Spencer W. Kimball's Journal." Below is what I judge to be some of the cream of the cream in his diary. These tidbits make my soul sing and reinforce within me how grateful I am to be a member of the Restored Church of Jesus Christ. This apostle and prophet became celestial material indeed. I include a little introduction of a few words to each excerpt to give some context.
This is the first of a multi-part series highlighting the journals of Spencer W. Kimball.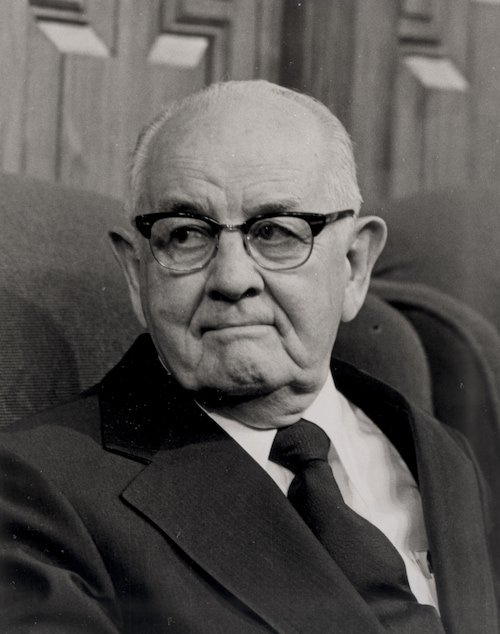 ---
Spencer Kimball as Church Leader
Elder Kimball on preparation of a General Conference talk:
"Today is my day [speaking] at the conference. I was very greatly concerned about my talk and Tuesday morning, I decided that my talk on faith without works or by grace are ye saved, wasn't exactly what I wanted to give. It was all prepared and finished and ready so I then got up real early Tuesday morning and wrote up a talk on revelation continuous. . . . I was the first speaker in the afternoon and was not crowded for time. I think I used about 19 minutes. My talk seemed to be well received. I am grateful to the Lord for it seemed to me that I had unusual help in this matter."
Reflections on organizing several new stakes alone:
"It has been like a whirlwind of almost tornadic proportions as we have moved from place to place [Australia and New Zealand]. The stakes are now all organized and we are deep into the touring of missions. It has been an unheard of experience. I think that never before in our experience has one of the Twelve been entrusted with such responsibility and I have been very close to my Lord. I think never before has one member been given five stakes to organize, one after the other. Generally two of us go to organize one stake. I have shaken with awesome responsibility through these days and have prayed much and earnestly, and have felt the presence of my Lord and His guidance, and have relied so completely on Him I feel that the work has been done about as it should be."
Unprepared for a commencement address:
"We were already about 10 or 15 minutes late for the graduation exercises of the Institute students there. The Institute building was filled. . . . Our month has been so crowded that I have had no moment to study—merely to meet schedules, talk to missionaries, hold the meetings, and sleep a few hours a night. Now I am faced with the speaking at a commencement exercise without immediate preparation. I prayed mightily to the Lord for help since I have been doing all I could for Him and have been unable to do this. Brother Burton gave me a cue and I proceeded on it. I do not now know what I said. It seemed to be beyond myself. I tried to recover it and have been unable to do so. I know the Lord was kind to me and made my address there satisfactory to these young people."
Elder Kimball's conference talk:
"I think I have never been conscious of such universal approval. President McKay had added, when announcing my address, that I had been called six months ago to tour the European missions. Now the meeting was over. Many of my Brethren expressed their approval as had Brother Lee, my seatmate during the closing of the meeting. President Clark came up and grasped my hand: 'I am usually careful with my words, but I want you to know that was excellent. . . ' Then President Richards said as he took my hand, 'I have been waiting to hear your report and have expected much and have not been disappointed. . .' And as he spoke, I felt two great arms from the rear. They enveloped me and closed in front, and there was a tight embrace and it seemed to me his head was pressed against mine. I looked up to find the Prophet of the Lord embracing me and saying, 'that was a masterpiece.' What ecstasy! In my silly sensitiveness I had felt that my intense work of the past months was not known nor appreciated—that it was more or less passed over or ignored—that it had sunk almost into oblivion under the glare of the more spectacular choir tour and the temple dedication. I whispered to him, 'thank you President McKay. I shall never forget that.' And I later wrote to him: 'If I could live to merit the smiles of my Lord so that sometime in the far future He might shake my hand or embrace me in His arms, then and then only then would I ever be lifted up to greater ecstasy than I was on Saturday afternoon when I felt your strong arms around me and heard your word of approval.'"
A memory:
"President ____ ___ was there and met me and reminded me of the time when I had my first stake conference as a General Authority. President George Albert Smith had taken me with him and then in the early evening, he had become ill and gone home and left me with the responsibility. I was almost terrified, not knowing exactly what to do and how to do it."
Pres. of the Twelve:
"Then in July 1972 when President Smith passed away, Brother Lee became the President of the Church, and I became the President of the Council of the Twelve. This has been a glorious period. The brethren have been kind to me. The members of the Twelve are quite differential and cooperative and loyal and so today I begin my 31st year."
Health and vigor self-assessment:
"This is my birthday. I am today 69 years of age. I feel like I might be 49 or 50. I am well and vigorous and strong and putting in long hours and I am grateful to my Heavenly Father that I am so well preserved. I am beginning to find old men and old women everywhere I go who have no more years than I. After my heart attacks of the past, and after my cancer of 1957 and the many problems to know that I am vigorous and strong and have a good voice, at least a strong voice, though it may not be so pleasant to hear, I am grateful more than I can express to my Lord for his goodness to me and my preservation."
On becoming President:
I felt extremely humble in sitting in the middle chair where all the Presidents of the Church had sat and more particularly the ones that I knew. . . . I felt most humble indeed. . . .

When we got back to the office, . . . I moved down to the room where the Presidents have had their office. Again I felt I was treading on sacred ground and was in a holy place.
---
Calling Church Leaders
Elder Kimball calls a bishop:
"The High Council approved brother Horace J. Ritchey and I interviewed him for the position. Because of financial difficulties he was reluctant to accept the call. . . .

"We met the High Council early, interviewed Brother Ritchey and tho he had been reluctant he indicated later that he was willing to accept the call tho he was in very bad financial circumstances. I felt impressed that the Lord would strengthen him financially if he had the faith to accept this call, and so expressed myself to him after he had accepted it." [Years later]: "Looking toward the reorganization of the San Jose Stake we continued with our interviews. . . . After much prayer and contemplation we decided to call as President, Horace J. Richie. This man I ordained a bishop in the San Francisco Stake some years ago. We found him very pleasant with a splendid personality and a good insight and much vigor and reasonable youth."
Calls a stake president:
"When Bro. Gunderson came up from downstairs he was visibly affected emotionally and his voice was unsteady. He received the call most humbly, expressing his willingness but his feeling of weakness. When he had regained his composure he said he was not surprised. That when he returned Wednesday night from our interview with him, and as he ascended the stairway from his basement a voice clear and distinct said to him: 'You will be the President of the new Stake.'"
Calls another stake president:
"Having been sent to reorganize the . . . stake, we began our interviews. . . . When High Councilor [name removed] came in, I was deeply impressed that he was to be the president of the stake. I did not close my mind but we went forward and interviewed all the other brethren. . . . After considerable deliberation and much prayer, we chose Brother [name removed] to be the President of the stake. . . . He accepted the call graciously but without the surprise element which we often meet. We interviewed him carefully and found as we expected that he was worthy and that all was well. We mentioned he would now need to give thought to Counselors and he said immediately, 'I suppose it is a little unusual for a man to have his counselors selected before his call. I'd like to have [names removed].' We were surprised but pleased. . . . Hours later as we went home, I said, 'Brother [name removed], we were surprised at your quick decision. Would you like to tell me about it?

"'Six years ago,' he began, 'When I was in the temple one day . . . I received the assurance that I would be the successor to President [name removed] when he was finally released. Since that day, I have been secretly and quietly doing my utmost to be prepared for it.' Then I asked, 'What would you have thought and felt had we called another man to this position as stake president?' He promptly replied, 'I would have wondered how I had failed. I would have held to my inspirational experience but would have realized that it was I who had not measured up.'

"Accordingly, we felt very happy that this confirmed the strong feeling which I had with regard to his call."
And another made known:
"After looking through the temple, I retired alone to one of the sealing rooms and importuned the Lord to advise me whom He had selected for the President of the South Idaho Falls Stake. As I came out of the temple, I was sure in my mind and felt composure and ease."
And another:
"We returned to and completed our interviews with the bishops and the stake presidency and high council members. I had prepared the two counselors for release. I was sure as I began to deliberate that Brother [Sterling W.] Sill was eager to make the First Counselor the President of the Stake. He discussed the matter at great length and argued logically, however, I had some very definite feelings in the matter and having done considerable praying about it, I felt to follow what I felt was inspiration.

"As each of the brethren had come in for interview, I had felt rather barren and unresponsive, but when Bishop Call came in, I had a different reaction and felt that here was an excellent possibility for a President. There were several other good men who came in during the afternoon but I continued to feel responsive toward Brother Call and finally, we got him back from Fairfield and called him to the Presidency of the Stake. He was very humble about it but accepted graciously."
And another:
"We then continued on until about 2:30 or 3:00 with our interviews of the leaders of the Greenbrae, San Rafael and Novato Wards of the San Francisco Stake. These three are to be annexed to the Santa Rosa Stake in its division. About 3:00 we decided on Brother Weston Roe as the president, and we went to his office at the cemetery and called him to the work. We were very pleased with him. We had been somewhat disturbed that we had felt so unsettled in the whole matter, but when President Roe came in to be interviewed both of us felt like light had penetrated the darkness.
And another:
"We began very early, about 7:30, interviewing our possible leaders. We spent some time with our new President, Richie R. Boyack. We had learned that he had planned to retire from his employment in the U.S. Army, in charge of the draft in this area, a colonel, a very prominent and important man. We found that he would be retired in July of 1960 and that he had plans to move back into the further west, possibly Utah, to spend the balance of his days. We invited him to be the President of the Stake and he accepted readily with the understanding that he would set aside his own ambitions and plans for the future and would serve the Lord. His devotion and consecration to the work, and his dedication caused me to exclaim within myself the words of the Savior to the Nephites: 'So great faith have I never seen among the Jews.'" (3 Nephi 19:35).
And another (extra special):
"I had some interviews and then at 8:00, we held the regular meeting with the Presidency and the High Council and the Bishoprics. . . . We released the High Priests Presidency and the three high councilors who were going to be in the new stake presidency. We sustained as the Presidency of the stake, Russell Marion Nelson, a doctor who is an eminent heart specialist; his First Counselor, Albert Reeder Bowen, the son of Brother Albert E. Bowen of the Council of the Twelve; and Joseph Bitner Wirthlin, the son of the former Presiding Bishop Joseph L. Wirthlin; and they were sustained also as the Presidency of the High Priests Quorum."
---
Council and Teaching
Pres. Kimball doctrinally corrects a friend:
"Lawrence Maloy came for me. . . . He had a problem and we went far away from the haunts of men and fasted from Sat. morning till Monday night and did considerable praying and studying. He had many erroneous ideas and concepts and I hope that we have him straightened out now. He had been very critical of the Savior and the Bible feeling that the Lord was a tyrant. I hope we had showed him that God is Love and that Jesus was perfect and that when we cannot so accept him there is something wrong with us. It seemed that he did not understand the scriptures and many passages might on the surface give license to his thoughts. I hope we have helped him."
Gives good answers to questioner:
"My first appointment was with Elder [name removed]. . . . He had filled a splendid mission, I am sure. He asked me many questions about procedure, doctrine and discipline. After I had answered him and he had gone, I sought an interview with Elder Joseph Fielding Smith to check up my answers and found that in every case I had been correct, so it helped me to know that I was learning the work. (Dec. 22, 1943)
Meeting in Council:
"In our meeting there were points of doctrine came up for clarification and I felt almost overwhelmed to think that I, so humble, was among those to determine and work out policies and programs for the whole church."
Caution:
"I received . . . also the report of Darrell Warnick of the 2nd Ward in Pocatello Stake, returning from the Central States Mission. He had had quite a remarkable vision or dream and I cautioned him to keep it sacred and not tell it promiscuously. In other words, not to cast his pearls before swine."
---
Testimony
Testimony:
"I leave with my children and others my testimony. I know. How more completely could I know anything! I know that it is true and divine. And as I face the end of my days I say it again and again without fear and in total honesty. I know that it is true, That God lives; that Christ lives; that Christ is our Redeemer and Savior; that revelation is a reality in our own day; that revelations have come not only to the great prophet Joseph Smith, but to all his successors and associates. I know that I myself have received revelations from my Lord and I have been guided many times; more in waking hours than in sleeping ones and that my associates have also been so blessed. I know too that this is the saving gospel and only through it and the Atonement of our Lord can any person return to our Heavenly Father in exaltation. This I know. And so it is."
And:
[To the Twelve:] "And now may I write what I cannot speak, that through the silent hours I have had a chance to weigh, and ponder, and evaluate, and through all these experiences my vision has been expanded, my love deepened, my determinations to grow more like our Savior increased and my knowledge fortified that mortality is but one important incident in life, that the Plan of Salvation and exaltation is a positive reality, that our Lord speaks constantly from the heavens, that this is His work, that we are His unprofitable servants and that the rewards are sure. That is the way it is. That I know.
---
Further Reading:
What Did Spencer W. Kimball Write About in His Journal? (From the Desk)
A Prophet's Journey: The Journals of Spencer W. Kimball (BYU Studies Quarterly)