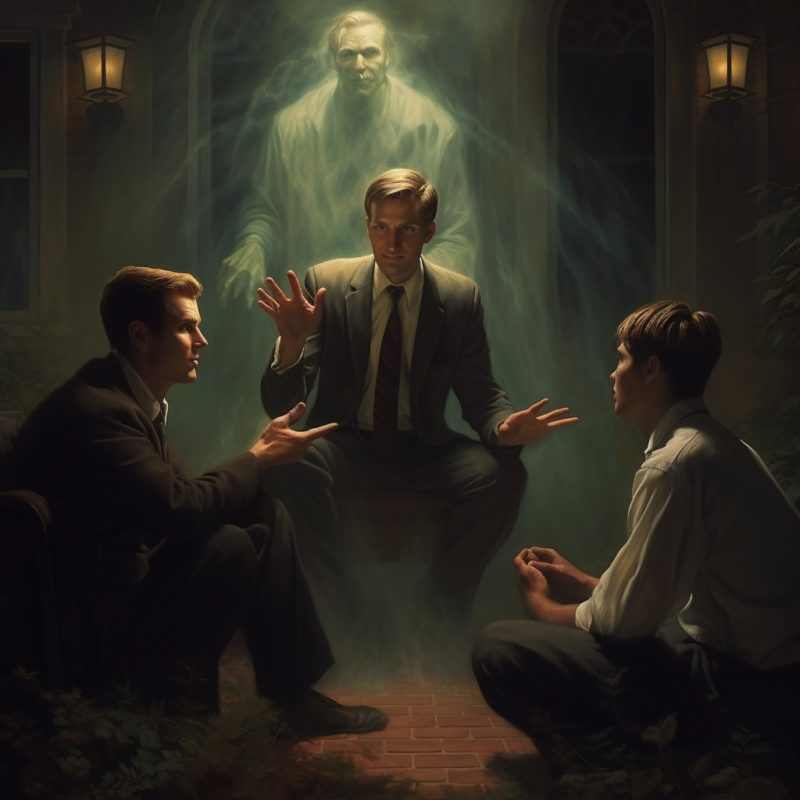 Midjourney: Mormon missionaries and a dark spirit, in the style of Greg Olsen. (Because why not.)
My memories of childhood "I swear my uncle heard that…" fantastic stories are still fresh enough in my memory for me to associate folklore and urban legends with a sort of enchanting nostalgia of a more magical time before devices where we'd gather around the campfire to share stories. Where my friend said it happened to his uncle, and my friend wouldn't lie, so ipso facto of course Bloody Mary is going to crawl out of the mirror to try to rip out my eyes.
While I'm uncomfortable with people conflating Mormon cultural tidbits with the gospel of Jesus Christ, at the end of the day it is my culture, and missions in particular seem like a perfect little laboratory for folklore development. Like Darwin's finches, each variation of an urban legend becomes quasi-isolated within the mission boundaries and adds local flavor and variation.
Mormon folklorist is one of (many) things I would absolutely love to do full-time in a parallel life if I didn't have a large family and had to buy an awful lot of cheddar, and the chances of obtaining an R1 TT anthropology position wasn't akin to being drafted into the NFL (if you think through the numbers involved you'll find I'm not exaggerating).
Still, BYU faculty couple Christine and Christopher Blythe have pulled it off, and have started a very addictive podcast on Mormon folklore called "Angels and Seerstones." This is especially impressive since "Mormon folklore podcast host" isn't typically something that goes in a tenure file, so this is a labor of love. So far they have episodes on:
Missionaries and supernatural assault

Joseph Smith's martyrdom canes

Prayer circles outside the temple

Spirit children

Ted Bundy Lore

Sleep paralysis

Angelic music

Moroni lore

Wayward missionaries
A few asides from me:
I consider myself somewhat familiar with the interesting odds and ends of Church history, so I'm surprised I had never heard of the "martyrdom canes" before. The parallels with other religious traditions that have relics attached to saint-like figures is obvious.

I heard the "quorum of the 12 apostates" thing in my visa-waiting mission in Las Vegas. Of course, I had no idea that that was a common trope across missions.

Same thing with the "many moons ago half the mission went on a sex trip to Thailand and were excommunicated" type stories. I had heard this one so often I just thought that a lot of missions in the 80s were apostate.

If I'm remembering correctly, my mother did know or was acquainted with either a Ted Bundy victim or somebody who escaped, but she actually did attend Bountiful or Viewmont High around the time when he kidnapped one of the students there, so my personal experience of "Ted Bundy folklore" might be more based in fact.

W. Paul Reeve and Michael Van Wagenen's Between Pulpit and Pew is a highly recommended book on Mormon folklore.

Evidently there's a Mormon folklore archives at BYU that collects these sorts of stories. Given our penchant as a record-keeping people there is clearly another book or series of books on the subject that is waiting to be written. Errant missionary folklore alone could easily be a monograph.

It is worth noting that just because something is "folklore," doesn't mean it isn't fact-based. Academically speaking "folklore" covers actual practices and items of material culture, not just urban legends.

Finally, a list of other potential Mormon folklore topics. I'm not telling the Blythes what to do, I'm sure they get suggestions all the time and don't have the bandwidth to address them all, but FWIW these are a few of mine:

Porter Rockwell's gunslinging

People involved in the killing of Joseph Smith dying fluke, "Mummy's Curse" type deaths

Bear Lake Monster

Bigfoot/Cain (already addressed in a Mormonr post)

People being told in patriarchal blessings that they will be the President of the Church during the second coming

Exorcisms
Finally, this is less directly related with Mormon folklore per se, but it's a fun story so I'm going to exercise OP privilege. I suspect that because the "Mormon Corridor" region tends to be fairly efficient and high functioning in terms of service provisioning we don't really have a lot of abandoned buildings or, say, overgrown cemeteries with crooked tombstones that look like the cemeteries in Disney Halloween cartoons. This is great for lower street crime and the like but not so great for homegrown folklore. (In contrast, I currently live close to an abandoned asylum, which makes for some great shots–also, Utah's general lack of fog doesn't help).
The only abandoned building I can recall growing up was on a corner across the street from Harmons in Orem. It was a dilapidated haunted-house looking manor, and there were rumors that it was used for animal sacrifices. It had been boarded up, but some friends found out that there was a small opening in one of the doors, so sometime during high school we got a group together and crawled in with flashlights at night. It was almost like a parody of a horror movie, with the different nervously giggling subgroups getting separated and losing each other, but we eventually made our way to the upper floor (nobody dared go into the basement), where our flashlights revealed a large room with 666s and "welcome to my nightmare" graffitied all over the walls and ceiling. At this point the tension got a little too much and we hurriedly made our way out. Our heart rates had just started coming down when I heard "Stephen, your calf is covered in blood!" And sure enough my sock was soaked crimson. (Apparently I had cut myself while crawling through the hole, for one last jump of the night.) Later we told some other kids from the Teacher's Quorum about it, and they tried to do the same thing but were spotted and cops were waiting for them when they came out.