Vietnamese depiction of the Pure Land, the Mahayana Buddhist paradisiacal afterlife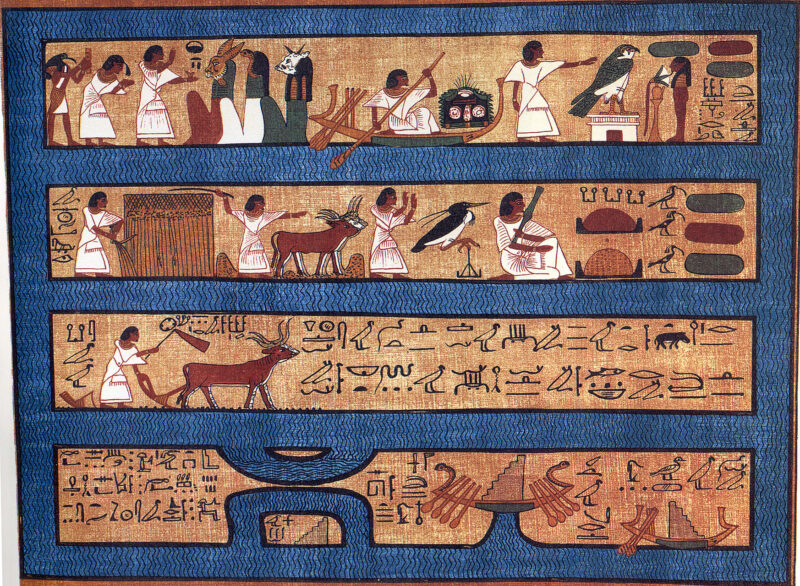 Egyptian depiction of the Field of Reeds, the ancient Egyptian paradisiacal afterlife
While I'm open to the idea of "sacred envy," where we see things in other faith traditions and communities that we wish we had, that shouldn't prevent us from recognizing places where we feel our own faith gets it right where most don't; it is the faith we have chosen after all. Some of the big ones here for me are: Heavenly Mother, collapsing the ontological distance between divinity and humanity, and an active afterlife.  
I have a casual interest in artistic, cultural, and religious depictions of the afterlife and paradise (and, as a related note, in the fact that Near Death Experiences often tap into the person's religion-dependent version of the afterlife, but another post for another day). They can be genuinely inspiring; for example, Gladiator's depiction of the Elysian fields or The Northman's depiction of Valhalla and yes, Touched by an Angel.
A defining characteristic running through the paradisiacal depictions of classical faiths is largely one of rest, and I get it. In societies where the vast majority of the population is scrapping by along the bottom of Maslow's hierarchy, having ground that brings forth fruit spontaneously without weeds makes sense as the most ideal existence imaginable, and a long time of blissful rest especially makes sense when I think of people I know who have had earthly lives of unremitting physical and emotional pain and toil. But what happens after the batteries are recharged? 
About a week ago I was at a family reunion in the High Uintas in Utah. The weather was perfect, the trees swaying, the sky blue, and the sun bright while I watched my kids playing in a glass-clear river with cousins. It was a very Edenic experience. 
After a half hour I was bored. 
Non-member physicist (and fan of the Book of Mormon) Freeman Dyson wrote that "no matter how far we go into the future, there will always be new things happening, new information coming in, new worlds to explore, a constantly expanding domain of life, consciousness and memory." This kind of eternity of action is one of our underappreciated, relatively unique doctrines, that the afterlife is not simply one of eternal rest in the divine presence, but has an active, generative, ongoing component. 
D&C 130 famously teaches that "that same sociality which exists among us here will exist among us there, only it will be coupled with eternal glory." Humans are an action and people-oriented species. Once we retire our cognition declines, when our spouse dies our health suffers, and being confined away from other human beings is one of the most painful psychological tortures available. As we're the same species as the Gods, I don't see why these fundamental characteristics would be any different after our apotheosis. 
Revelations beautifully and powerfully talks about a scene after this earth's mortality when "God shall wipe away all tears from their eyes; and there shall be no more death, neither sorrow, nor crying, neither shall there be any more pain: for the former things are passed away." However, Terryl Givens points out that the Latter-day Saint God is one with human emotions who does indeed continue to weep as seen in Moses 7. Therefore, on some level, sorrow and crying do not pass away after exaltation, as it is very clear that God exhibited immense sorrow because of the decisions of His children. 
Maybe in the exalted afterlife we can have celestial retirement hobbies, as it were, and periods of rest like the Gods did on the seventh day,  but real purpose requires real consequences, and that's provided by the "One Eternal Round" cosmology of the restored gospel.