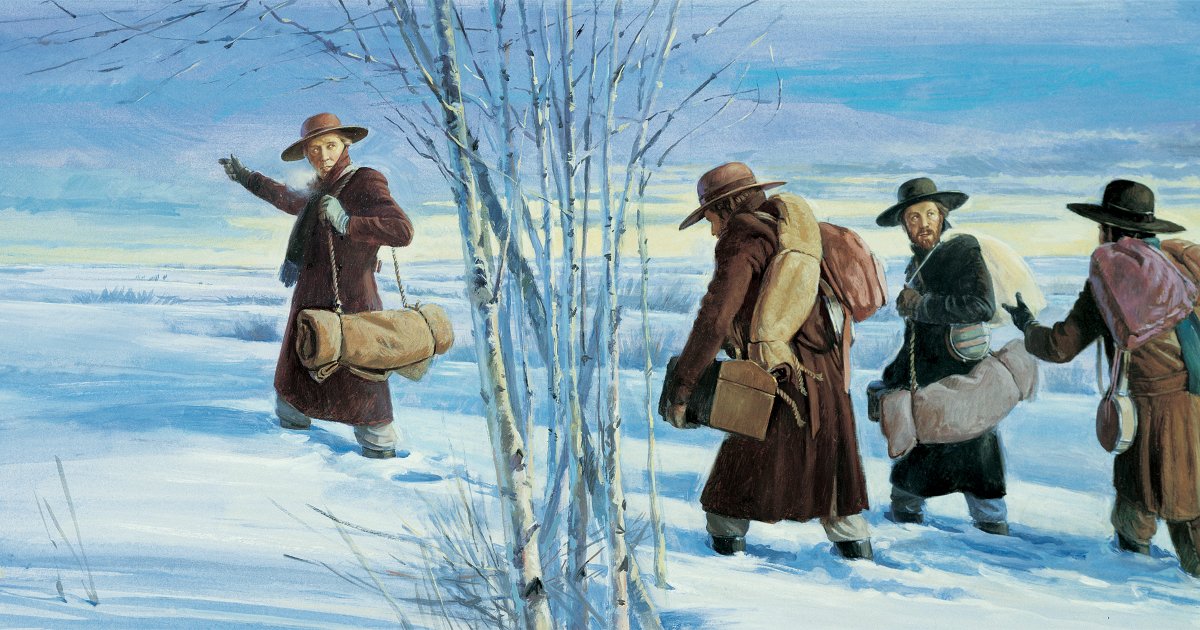 The seven sections of the Doctrine and Covenants covered by this week's Come Follow Me lesson discuss, in general, missionary work and the subsequent benefits of membership in the Kingdom. The first five of these sections include missionary calls to David Whitmer, Peter Whitmer Jr., John Whitmer, Thomas B. Marsh, Parley P. Pratt  and Ziba Petersen and advice on how to preach is given to Ezra Thayre, Northrop Sweet and Orson Pratt. The final two sections are Sidney Rigdon's call to act as scribe for Joseph Smith in translating the Bible, and a blessing given to Edward Partridge.
L. O. Littlefield's Farewell
Missionaries and missionary work is a frequent subject of LDS poetry, and the parting at the beginning of missionary service is probably the most commonly treated part of missionary service. Of course, historically many poets have found inspiration in parting—so this focus among LDS poets is hardly surprising.
In this case, the missionary poet is Lyman O. Littlefield, who was then the typesetter for the Times and Seasons. Born in 1819, Littlefield joined the Church in 1834 before joining Zion's Camp. He married in 1840 and was called on his first mission in 1843, leading to the following poem. Later, Littlefield went on a second mission to Great Britain in 1847, then immigrated to Council Bluffs before moving to Utah in 1859. He died in Smithfield, Utah in 1893.
L. O. Littlefield's Farewell
By Lyman O. Littlefield (1843)
Farewell, my home, farewell, my friends!

A short farewell I bid you all;

My God my future course commands—

I go submissive to his call,

Now as I bid the last adieu

To friends, to me, forever dear,

Let us our covenants renew

And wipe away each starting tear.
Now as I turn, my face upon

Your city, now a place of rest;

Eternal prospects seem to dawn

And say for "ye shall be blest."

Then glad I go, and grieve no more

To leave my friends and kindred all,

I gladly hasten from your shore—

No dangers drear my heart appall.
The gospel tidings shall be told,

Unto a world embew'd in sin;

To them its truths I will unfold

And make its simple mysteries plain.

For this I leave all earthly ties;

For this let persecution rise!

A boon, I ask it from the skies,

Keep me from sin and wicked ways!
Then as my distant steps I tend

To preach the word, where troubles press,

May I God's holy cause defend

And walk in truth and righteousness,

Let me not fear to spread his name,

To do his will and own his cause;—

I'll feel no pang, no guilt or shame—

I'll stand supported by his laws.
The Reality of Mission Work
I don't know that I can draw a direct line from any statement in the sections of the D&C covered today, but this little poem makes me smile—and I suspect it rings true to many who have served missions. It was composed by two missionaries doing "country work" (i.e., rural tracting, traveling without purse or scrip) Ottawa Conference in Canada in 1921, Elders Albert Nilsson and Haller Witbeck.
The Mission
Potatoes when I am hungry,
Water when I am dry.
A suit case full of literature;
I'll tract until I die.
[H. T. Ardis Parshall in Keepapitchinin]
The Spirit of Missionary Work
To wind up this lesson, here's a poem that describes the desire that many missionaries have to serve. It was published without attribution in the Frontier Guardian in 1849, and may be the work of the newspaper's editor, Orson Hyde. Hyde was by this point a veteran missionary who had undertaken one of the longest missionary voyages of that time, traveling to Jerusalem to dedicate the Holy Land for the return of the Jews. Hyde was known to have written other poems, so it is possible that he is the author of this item also:
Spirit of Gospel Mission
(1849)
Let me go, preach the gospel, 'tis what I desire,
With the spirit in power my mind to inspire;
For the blessings of heaven to man here below;
And the glory of Zion on earth, Let me go.
Let me go, for I love to proclaim the glad news,
That the Lord is restoring the remnants–the Jews
And all Israel in glory and righteousness too,
To the lands that he gave unto them, Let me go.
Let me go to the nations and Isles where they dwell,
Their freedom from exile and bondage to tell;
As they wait now their promised redemption to know,
As they look for the light and the truth, Let me go.
Let me go, now the "fullness of times be come in,"
When the Lord promised, making a finish of sin,
And the truth must prevail, and the nations all know
That the Lord is returning to reign, Let me go.
Let me go, gather sheaves in the fields of the earth,
Ere they too shall consume with the tares, when the dearth,
And the fire, and the sword, and the plagues shall go through,
All the wicked destroying. O! haste, Let me go.
Let me go for the praise of the calling to me,
For the crown that shall win to the faithful, to be
For the glory of God in the truth here below,
And the joy of the perfect in Christ, Let me go.