It's been a long time coming, but this is part III of a series on "Scams in Zion," with part I (showing that Latter-day Saint-heavy counties have less fraud) here, and part II discussing our multilevel marketing problem here.   
Here I'm directly addressing a particular kind of affinity fraud we're known for: Ponzi schemes. I ran across a site where a financial lawyer fairly exhaustively tracks all known Ponzi schemes in the US over one million dollars and provides a helpful database.
I went ahead and downloaded his file, pulled the number of people in each state from the Census Bureau, and created a "number of people per Ponzi Schemes" metric. (Nitty gritty, wonkish disclaimer: It's slightly apples and oranges because I'm pulling the number of people from the most recent ACS 5-year estimates, whereas the Ponzi scheme database goes back to 2008, but for all practical purposes it doesn't matter because the amount of variation within states across time is nothing compared to the variation between states). 
According to this metric Utah is by far the highest state per capita for Ponzi schemes at one per 70,247, with the next highest being Nevada at one per 117,663. 
I generated a map to show the variation across the country. Some of the very low Ponzi scheme states drown out a lot of the others, so to make it show more variation I quickly and simply set the very low states (Arkansas, Kansas, Oklahoma, and New Mexico) to missing.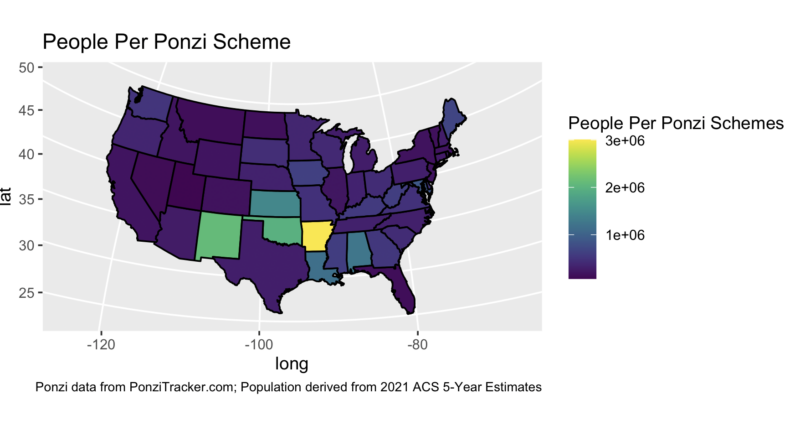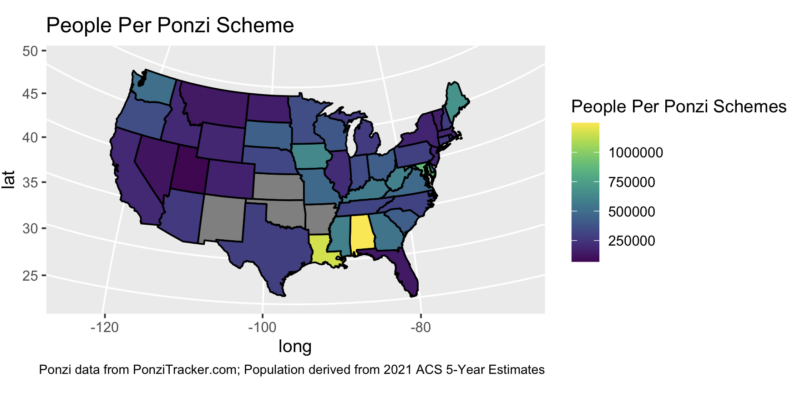 To describe the pattern in one sentence it would be: Ponzi schemes are more common in financial centers on the coast (unsurprisingly) and the Mormon Corridor. 
A few more points: 
The largest Ponzi scheme in Utah was undertaken by a father-son duo for $220 million. It mentions in the SEC documentation that they used their Church connections; Wendell Jacobsen was a bishop of a student ward. 
I worked for Rick Koerber ($100 million) for a day and then quit when it was clear that the job as advertised was not the job they were going to have me do. Koerber also clearly leveraged the cachet of an emeritus general authority friend of his to attract investors. 
Usually when a Church leader is involved it gets blared in the headlines. (My biggest eye rolls are when some publication in the UK says "Mormon Church Leader Arrested For…" and it's some elder's quorum secretary). Consequently, Googling around is probably an okay way to quickly check for any such cases because the media will probably pick up on it. 
I found two stake presidents convicted of running a Ponzi scheme (Mouritsen and Udy). I am personally aware of another case in the database where it was a former member of a stake presidency, but his leadership position never made it into the news. His family knows my family though, so I won't make it awkward by naming him. 
I found five bishops from Google (Blackwelder, Merriman, Hammons, Jacobsen, and Reid). I did this using the "-" advanced search operator, which allows you to search for results minus results that have a certain name, which allows you to quickly iterate and filter down the list. Let me know if I missed someone in the comments, but I *think* this got all the big ones.  
Overall, I'm actually surprised that the number of leaders I found was as small as it was, given how large the proverbial Ponzi-scheming bishop looms in many people's consciousness and how many bishops there are. It goes without saying that the vast majority of Ponzi schemers are not Church leaders, but the leaders are the ones that (somewhat understandably) receive more media attention. 
The more general numbers kind of speak for themselves, I don't know if I have much else to say that isn't implied in the data, and I suspect that the kind of people reading this aren't at much risk of sending their 401(k)s to brother so and so promising extravagant returns, but still, to risk saying the predictable, boring thing, the prosperity gospel and the perceived wealth/righteousness connection I've already written about probably feeds into our cultural penchant for get-rich-quick schemes, and the sooner we can consider the ideal life as not being defined in any way in dollar terms the better, but lip service to this ideal notwithstanding it's clear that we aren't even close to it.
**************Note: After this post ran a comment was stuck in spam that pointed out that there was an excellent  Deseret News article that did a very similar analysis a couple years ago using the same PonziTracker database. I didn't run across it since my Googling was directed towards leader-related Ponzi schemes, and if I ever read it before I did my analysis I didn't remember it.