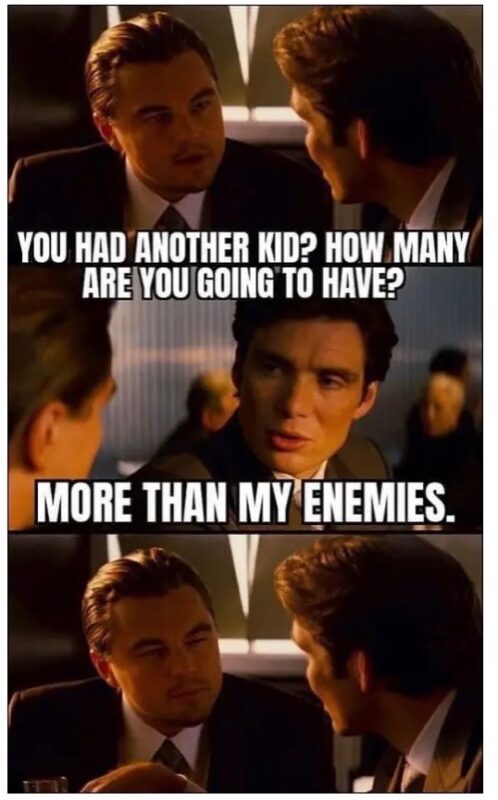 Preface: Why It's Okay to Talk About Family Size
Family size is one of those hyper-sensitive issues that people gingerly tip toe around in the Church, and with good reason. First, it abuts with the kind of cultural touchstone gender role issues that the Church has kind of soft preferences around but has generally avoided hard positioning on. 
Second, it is directly tied to other highly personal areas such as mental and physical health, infertility, relationship quality, sex lives, and wealth. At an individual level, questioning why somebody has as few children as they do is a recipe for all sorts of interpersonal awkwardness and drama. 
However, while it would be completely inappropriate to critique any individual's family size, commentary about the average number of children in a society or community is fair game. Each of the above variables vary from individual to individual, but it's arguable to what extent they have changed across time for society. At the end of the day you can't attribute the decline in family size in the Church to a rash of infertility, and while people are often quick to blame the economic situation, research on child incentives show that they at most have a marginal effect of childbearing, and fertility has declined among high-income families as well. No, it is clear that the preferences for family size themselves have changed. Church members simply don't want to have ten kids anymore, even if they had a pitch perfect spouse, great schools, easy pregnancies, a great career, and all the things. 
While, again, it would be inappropriate to critique any individual decision, there is no reason critiquing general attitudes towards having large families is any more inappropriate than critiquing any other schema or set of societal priorities. While unapologetically and explicitly honoring and acclaiming the large family ideal risks otherizing those that do not meet the ideal, the same is true for virtually any good, but that does not prevent us from, say, honoring those with higher education degrees or successful careers. Indeed, society at large already honors people with those things, they have their reward, whereas the dutiful stay-at-home parent with eight children gets little else from the public but weird looks at the store and park. If there is a place where particular in-group Church norms could make a distinctive, unique difference it's there, and I think what Spencer W. Kimball said in regards to families generally also applies to large families: 
We have no choice, dear sisters, but to continue to hold up the ideal of the Latter-day Saint family. The fact that some do not now have the privilege of living in such a family is not reason enough to stop talking about it. We do discuss family life with sensitivity, however, realizing that many sisters do not presently have the privilege of belonging or contributing to such a family. But we cannot set aside this standard, because so many other things depend upon it.
The Case for Big Families
I have already written in some detail about how central pronatalism is to the theological structure of The Church of Jesus Christ of Latter-day Saints. To wit, eternal reproduction is literally the defining feature that separates the Gods from the angels. In the celestial tier, the generative, creative impulse is taken to an eternal nth degree. Furthermore, it isn't creation for creation's sake, but the creation and multiplying of interpersonal relations that are "at the heart of everything that is worthy to be called happiness." I suspect that the relatively high fertility levels among the Saints isn't just a local manifestation of generic conservative ideals, but is a residue of the days of large kinship clans when the above theological premises had very real implications for framing this-worldly norms about the good life, with large earthly families reflecting the celestial archetype structured by the theology.  
For me personally, that framing is still operative. Growing up, both the Old Testament's family-centered theology and its Nauvoo-era updates gradually settled the large-family ideal in my mind and outlook. (Indeed, I think part of authentically absorbing the spirit of the Old Testament is coming away with this kind of pronatalist, kin and family-centered perspective.)
I'm sure the fact that I had a sort of ideal large family existence myself also helped. (Although I recognize that not all big family experiences are as positive). A large family meant all the more fun, excitement, life, and emotions; all the things that make life life. It might not have been "eternal lives" but it was certainly more life and lives. 
To some extent the case for large families is ineffable. There is no formula that says that those supernal moments with children are peak existence: an infant child smiling at you for no reason, a toddler drifting off to sleep in the crook of your arm, sitting in the parlor talking with relatives late into the night, the obsessive concerns for people who aren't you. If you don't feel that then I suppose I don't have a response any more than I would have a response to somebody not liking ice cream, but from a Latter-day Saint perspective those sorts of ideals are defining elements to the celestial existence, which is not true for hobbies, careerism, or whatever other thing we're exchanging for the family-centered life that isn't our sanity or health. God's not going to care about your office suite (and probably neither will anybody else ten minutes after you retire, but that's another matter). To some extent my pronatalism derives from my sense of nihilism about almost everything else; still, you don't have to be as generically cynical as I am to recognize point the point here. 
Of course those numinous moments are counterpoised with the brawling, late night colic, and dysfunctional family drama.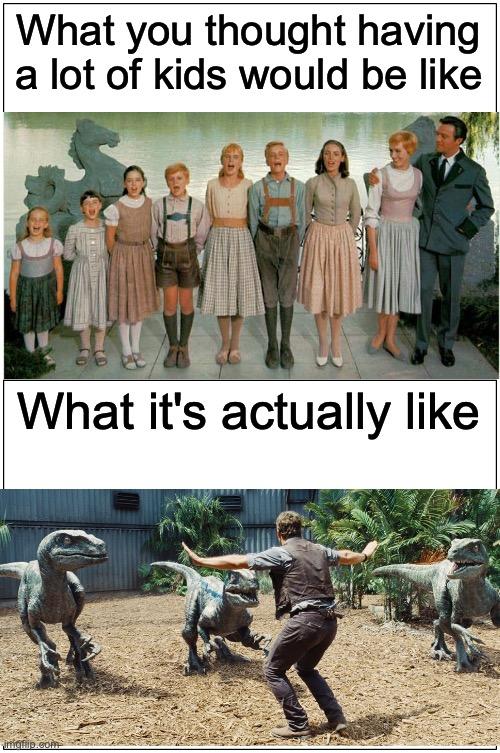 However, there is something existentially heavy about the creation and raising of a human being that is greater than the balancing equation weighing the supernal moments against the stressful ones. With our theology of eternal continuation of that act of creation, outside of eternal ordinances I suspect there is nothing else of equal import worth investing our energy in.
A saying we had in our house growing up was "anything not eternal is too short." It's one thing if we're all atoms with everything bound for the void, in that case by all means eat, drink, and be merry, for tomorrow we return to the darkness, but from a believing Latter-day Saint perspective I'm constantly befuddled when otherwise believing members make an explicit choice to trade their birthrights as generative Gods in embryo for messes of pottage of…anything else, it doesn't matter what the alternative is, whether it's videogames or making partner, it all becomes maggot dung in the end anyway. (Of course that's not to say that things in-the-moment aren't important in themselves).  
If it's legacy we're seeking, most of our occupational or educational accolades and honors will be buried with us, if not sooner, whereas my youngest son will quite possibly live to see the year 2120. I have no idea what will be going on then, but I'm pretty sure whatever I've done outside of family by then will be a drop in a bucket buried in a landslide overgrown with jungle.
Of course, that's not to say that we shouldn't strive for our individual drops in our chosen fields; rather here I'm targeting the "you could have been a contender" message that society communicates to people who decide focus on families at the expense of the honors of men. There are very legitimate reasons for having fewer children such as difficult pregnancies, mental health, or financial security; however, I think I'm in safe territory believing that virtually any explicit exchange of children for occupational advantage per se (whether you're a man or woman) is unprofitable in the eternal scheme of things. 
Finally, whatever spiritual, emotional, higher, or existential goods one receives from one child, you get double from two and triple from three. Again, this may seem harsh to those who have not been blessed with as many children, but it makes logical sense, and besides the logical implication of the converse is that children in larger families provide less of those ultimate relational goods per person than children in smaller families. 
With these premises: that the highest goods come from family relations, and that these benefits are linearly additive, the truly rich life as an earthly shadow of what we can expect in the celestial glory comes into focus. As a final note, in my mind that life is typified by a Haredi Jewish woman who passed away with over 2,000 descendants. She spent her days giving and marinating in family love, and I encourage readers to read the article about her life, which makes a better case for the good life than any syllogistic argument I could make.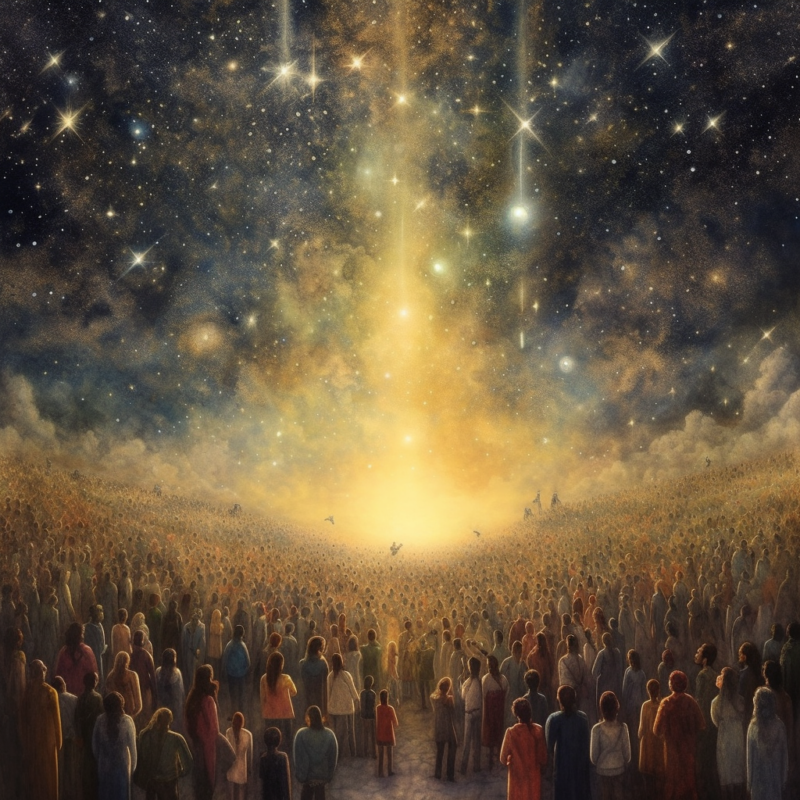 Innumerable as the Stars