We'll spend the first six months of 2023 studying the Gospels (Matthew, Mark, Luke, and John) for Come, Follow Me. For the last couple of years, every day I've read at least a chapter of the "five gospels" (the four above + Christ's appearance in the Americas recorded in 3 Nephi in the Book of Mormon). Because that's taken me through the Gospels several times, I've used several resources to enhance my understanding and to keep my reading fresh. I'll share a few resources that have been useful to me, and I'd love to learn about your favorite resources in the comments!
Read or listen to a new translation.
Latter-day saint biblical scholar Ben Spackman writes that "the absolute best and easiest thing you can do to increase the quality and frequency of your Bible study is to replace/supplement your [King James Version] with a different translation." I find that reading different translations gives me new perspective on familiar verses. The leaders of the Church study and quote different translations. There are many, many Bible translations out there. One that I've seen recommended is the New Revised Standard Version (NRSV). You can find many of them at websites like Bible Gateway or using this Bible app. (I also use the latter app to listen to different translations.) 
If you like country music singer Johnny Cash, you can listen to him reading the Gospels aloud (here are YouTube playlists for Matthew, Mark, Luke, and John). I love hearing that sonorous voice read me the stories of Jesus. 
Read in a different language.
Just as reading a new translation gives me a fresh perspective, so does reading in a different language. If you know another language, try experiencing the Gospels in it. I use a Bible app on my phone that has the Bible in dozens of languages: I've regularly used it for French, Spanish, Portuguese, and Swahili. It also has recorded audio of the Bible in many languages (including Swahili, so not just European languages), so you can read, listen, or do both at the same time. 
Read a commentary.
I'm not a biblical scholar and I don't know any ancient languages. But other people are and do, and I learn a great deal from their perspectives. For me, the point is not to find a commentary with which I agree on every single point—healthy disagreement with what I'm reading is part of the engagement process—but to learn. I've recently read two absolutely fabulous commentaries, both by Latter-day Saint scholar Julie M. Smith (and both available in both print and electronic formats).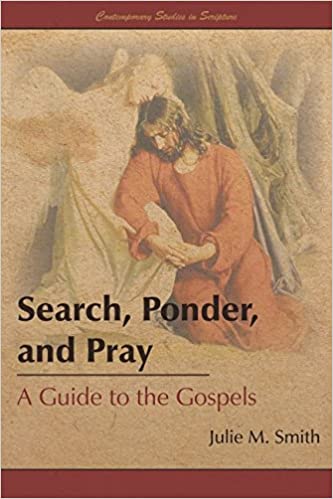 For a single volume commentary on all the Gospels, I can't recommend highly enough Smith's Search, Ponder, and Pray: A Guide to the Gospels. Smith combines insights from biblical scholarship with thousands of thought-provoking questions. It revitalized my study of the Gospels last year, and I'm looking forward to revisiting it next year. It's a manageable length (under 300 pages), and Smith's writing is clear and inviting to lay readers like myself. (I wrote a full review of the book last year.)
For a deep dive into what is generally believed to be the earliest gospel, Mark, I recommend Smith's The Gospel according to Mark. Smith seeks to lay out what the gospel of Mark would have meant to its earliest readers. She provides a fresh translation (or rendition, as she calls it) of the gospel (printed side-by-side with the KJV) and then goes through just about every verse with both textual and spiritual insight. In particular, she highlights the themes of discipleship and Jesus's attention to marginalized members of society (including women). Smith has a series of fabulous essays at the end: Who was the likely author of the gospel of Mark? What did casting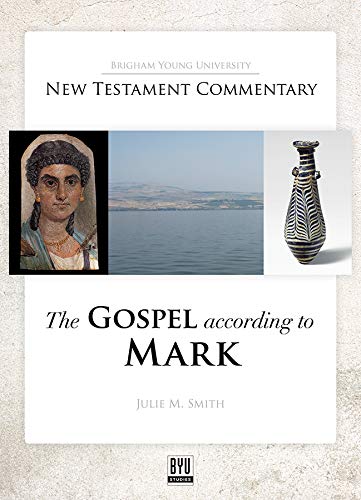 out demons likely mean? Why does Jesus tell so many people to keep his miracles secret? How should we think about the Joseph Smith Translation?) Again and again, I considered verses that I've read dozens of times before in a completely new light. It's long (just short of a thousand pages): since I have a day job, I read it for 5 minutes a day as part of my scripture study over the course of 9 months. 
Read a paraphrase.
Sometimes modern authors will publish what is sometimes called a translation but what I would characterize as a paraphrase, where the principal objective is less to recover an original meaning and more to help modern readers relate to the text. Some scholars seek to achieve both. (Among Latter-day Saint scholars, Adam Miller has done several such paraphrases, albeit not yet of the Gospels; I loved his paraphrase of Romans.) The objective of reading such a paraphrase is to encounter the text in a new light and see what it meant to another reader. Often I'll run back to the KJV or some other translation to compare and think about whether I'd paraphrase it the same way. 
One such paraphrase, popular among many Christian readers, is The Message, by pastor Eugene H. Peterson. (Sing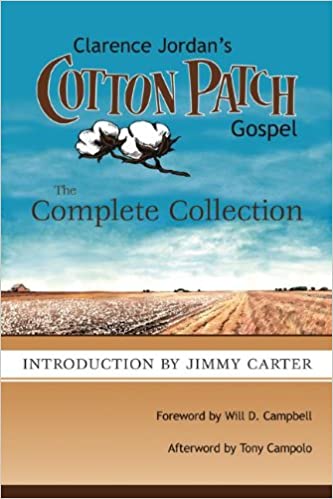 er Bono and author Madeleine L'Engle both provide praise for it.) You can find it for free in Bible apps and websites like Bible Gateway. I've really enjoyed The Message for the Old Testament this year, and I recently read and enjoyed its version of The Gospel of John. 
Last year, I read and enjoyed pastor Clarence Jordan's Cotton Patch Gospel, which sets the gospels of Matthew, Luke, and part of John (plus Acts) into the relatively modern U.S. South. Jordan passed away before finishing John. Let me give you a flavor of these paraphrases. In John 6, the apostles are wondering how Jesus will feed a large crowd. Here are the KJV, the Message, and the Cotton Patch Gospel of verses 8 and 9. These may not be for everyone; you can find something that speaks to you or that challenges you.
| | | |
| --- | --- | --- |
| King James Version | The Message | Cotton Patch Gospels |
| One of his disciples, Andrew, Simon Peter's brother, saith unto him, There is a lad here, which hath five barley loaves, and two small fishes: but what are they among so many? | One of the disciples—it was Andrew, brother to Simon Peter—said, "There's a little boy here who has five barley loaves and two fish. But that's a drop in the bucket for a crowd like this." | Then one of the students—Andy, Rock's brother—piped up, "There's a kid here who has five buns and two hot dogs, but that won't go a long way toward feeding this crowd!" |
Conclusion
The Gospels are so rich, and once every four years we—as a Church—get to focus almost exclusively on them for several months. Let's use all the tools we can to get the most out of the lives and teachings of Jesus and his disciples. 
What are your favorite tools to enhance your study of the Gospels?