There has always been a need for those persons who could be called finishers. Their ranks are few, their opportunities many, their contributions great. …I pray humbly that each one of us may be a finisher in the race of life and thus qualify for that precious prize: eternal life with our Heavenly Father in the celestial kingdom. I testify that God lives, that this is his work, and ask that each may follow the example of his Son, a true finisher."
-President Monson
The history of human lifespan predictions is essentially the history of people theorizing that there's some biological, natural ceiling for average lifespan, only to have that ceiling shattered. A derivative of a famous visualization in Science shows this history in one pithy image, with the sidebars being different hypothesized ceilings to average human life expectancy.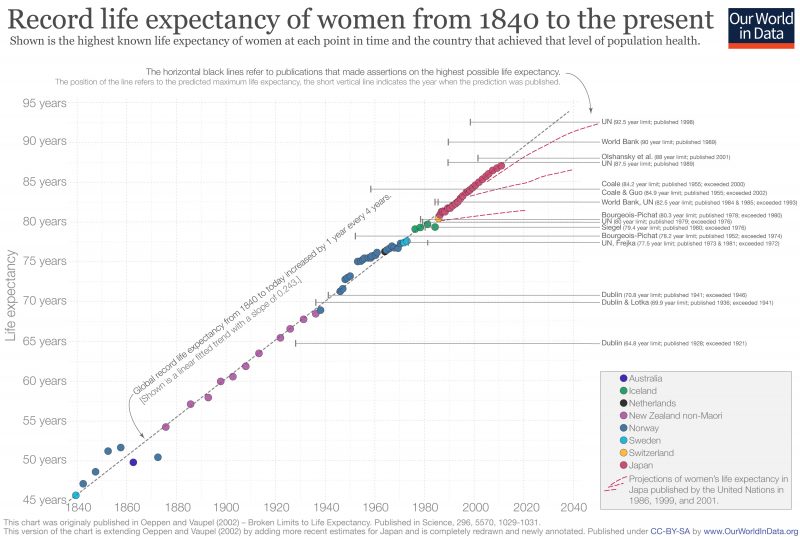 However, like Moore's Law predicting the increase of computing power, there's little in the way of underlying theory driving this observation, and it too has to end at some point unless you think humans have it in them to eventually live to be a million years old. However, we still don't have a clear picture for where that ceiling is, so for now extrapolating forward past trends that have been uncannily accurate in the past (specifically, we gain 2.5 more years of life for every decade since the 1840s) seem to be our best estimate for now. When we do this we find that "most children born in the last two decades in countries with high life expectancy will, if past progress continues, celebrate their 100th birthday." It is also worth noting that historically increases in life expectancy are accompanied by decreases in age-associated health problems, so it's not like the extra years will just be spent hooked up to breathing machines. 
The primary thought that immediately comes to mind when I think about this is that my children could easily be living and active in the year 2120, which is so far in the future that it makes anything non-offspring related that I'm working on now seem irrelevant in the long run.
But since this is a Church-related blog, what would a church look like in a world where most people in developed countries can plan on reaching their 100th birthday, with 110 being the new 100? I can think of a few implications, in no particular order:
Of course, how this interacts with all of the other future changes is speculative.