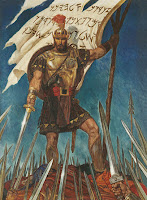 This week's Come Follow Me lesson covers just one section of the Doctrine and Covenants — Section 45 — which discusses the role of the Church as a standard to the world and as a holy place, or a place of safety, a place often called Zion.
Of course, the early revelations in the Doctrine and Covenants mention these topics frequently, and the poetry of the period likewise talks about the importance of raising a standard to the world and of the crucial role of Zion — although the physical location of Zion changes over time. However, what I found interesting in a couple of the following poems was that the standard raised to the world wasn't in a single location. Instead, the standard was raised by missionaries who traveled the world, gathering the elect who they would lead to Zion.
Standard Bearer: Elder L. Snow
A good example of this is found in Eliza R. Snow's poem addressed to her brother, Lorenzo, who had been called to serve a mission in England soon after he arrived in Nauvoo. He eventually served as President of the London Conference, before leading a group of immigrants back to Nauvoo, arriving there in April 1843. In the poem, Snow calls her brother a "standard bearer / On a distant mountain top" before eventually proclaiming that he will be welcomed home after he completes his mission. Lorenzo Snow was called to the Quorum of the Twelve six years later, in 1849.
To Elder L. Snow, London, Eng.
Dearest Brother, wherefore leave us?

Why forsake thy friends and home?

Of thy presence, why bereave us,

And in foreign countries roam?
Must the dearest ties be broken?

Must affection's beauties fade?

No: O no, but God has spoken

And his voice must be obey'd.
Thou art call'd to bear Salvation's

Joyful tidings far abroad—

Thou hast gone to warn the nations,

In the name of Israel's God.
For the spirit of Devoition

To Messiah' glorious cause;

Thou has cross'd the pathless ocean,

To proclaim redemption's laws.
For the gospel proclamation

Must be sounded far and near;

That the best of every nation,

May in Zion's courts appear.
Thou art now a standard bearer

On a distant mountain top;

And perchance, art made a sharer

In privation's bitter cup
For the Lord designs to prove thee

If his voice thou wilt obey;

Therefore from the friends that love thee,

Thou art parted far away!
Thou art call'd thyself to sever

From the land where kindred dwell!

But it will not be forever—

Time ere long,will break the spell.
Here warm friends await thy greeting—

Noble friends, of Abram's line—

Here's are gentle pulses beating

In soft unison with thine.
Here are daily pray'rs ascending

That th'appointed time may come,

When thy foreign mission ending,

We shall bid thee "welcome home."
Standard Bearer: A. O. Smoot
Eliza R. Snow wasn't the only poet to recognize the gospel's role in drawing people to the Truth. Margaret T. Smoot, wife of Abraham O. Smoot, did the same in a poem addressed to her husband. Abraham O. Smoot was serving his second mission, to South Carolina, in 1842, when this poem was written. In it she sees her missionary as a "herald" proclaiming the gospel to the world.
Go Forth Ye Herald and Proclaim
by Margaret Thompson Smoot (1842)
The following lines of poetry were composed by Sister Margaret T. Smoot, on taking leave of Elder A. O. Smoot, her husband.
Go forth ye herald and proclaim
The Gospel of our Lord,
Hold forth the truth in Jesus' name—
Supported by his word
To all who will obey his word
His promises are sure,
That Christ will be with them and stay,
If to the end endure.
Since God hath spoken from above,
And called you to depart,
May fears nor temptations move
You from the truth to part.
The sacrifice to me is great,
To part with one so kind,
But God gave thee to me for mate,
I'll be to his will resigned.
I pray the Lord—keep thee from harm,
And guide thee with thy all,
And save thee in his mighty arm,
That thou will never fall.
Now farewell—kindest of hearts
To thee I bid farewell a while,
For Jesus' sake we got to part,
And on us, O! let him smile.
Watchmen of Zion
Toward the end of section 45 of the Doctrine and Covenants, the Saints are commanded to gather and build the New Jerusalem, the Zion where they can find safety and peace. In this poem, William W. Phelps suggests that the "watchmen" (presumably missionaries, or leaders) should rejoice when Zion is established, and the Saints will have a place to "stand in holy places."
Ye watchmen lift your voices
Ye watchmen lift your voices,
While heaven and earth rejoices,
In strains of holy praise,
For bliss that crowns our days,

So gloriously.
See eye to eye, in Zion,
While Jesus, Judah's Lion,
Rebukes the world of sin,
And makes his church begin

To fill the earth.
Ye blessed of the Father,
From ev'ry region gather,
Upon the promis'd land,
In holy places stand,

While judgement works.
The plagues will soon be over—
The Lord his face uncover,
And all the pure in heart,
Beyond the power of art,

Be blest in heaven.
The earth shall then be holy,
And saints and angels boldly,
Without a vail between,
Will see as they are seen,

And walk with God.