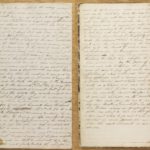 The two sections in this week's Come Follow Me lesson seem very different. The first, section 10, concerns the aftermath of the loss of the 116 manuscript pages containing the initial translation of the Book of Mormon. In contrast, section 11 is a revelation of advice to Hyrum Smith. But in both of them is a message of seeking the Lord and relying on Him—the first proclaiming that God foresaw everything from the beginning, so we should rely on Him, and the second urging reliance on Him by accepting revelation and prophecy.
Seek Ye The Lord by Maria Berry
Let's start with a poem by Maria Berry, apparently the Maria Berry who lived in the then mining boomtown of Mammoth, some 45 miles west southwest of Provo (near Eureka). If this is correct, then Maria was born in Denmark as Hansine Marie Bluhm, and immigrated with her family to the United States in 1881, when she was just over a year old. She married John Ernst Berry (born Behre in Germany, also immigrated as a child) in 1900, and raised her family first in Sanpete county and then in Mammoth, before the family settled in Salt Lake. She passed away in 1969.
This poem shares its first line with the hymn "Count Your Many Blessings", which may cause some confusion or dissonance when reading it. But its message is much closer to the message of the lesson:
Seek Ye The Lord
When upon life's heaving billows
You are tossed from side to side,
Broken-hearted and forsaken
You are drifting with the tide;
Hope no longer is your anchor,
You've forgotten how to pray,
You have lost your hold on Jesus,
And, without Him, missed your way.
Raise your voice once more to Heaven,
Ask the Lord to be your guide;
You will find the safest harbor
By His kind and loving side;
He will heal your broken spirit,
Fit you for the storms of life;
Resting all your cares on Jesus
You will never fear the strife.
We could never fight life's battles,
If we did not seek His aid;
He will bear the weary burdens
That have heavy on us laid;
He will guide our faltering footsteps,
Walking with us hand in hand;
Cheering, helping, He will lead us
Safe into the promised land.
[H/T to Ardis at Keepapitchinin]
Jean Bennion's

Sabbath Evening Prayer
Prayer is, of course, a way of seeking the blessings of the Lord and expressing our reliance on Him. Poet Jean Bennion was one of the very accomplished children of Israel Bennion and Jeanette Sharp—her siblings included Naval Capt. Mervyn S. Bennion (who posthumously received the Medal of Honor for his service as captain of the USS West Virginia during the attack on Pearl Harbor). Jean Bennion never married and spent most of her life in Vernon, Utah, some 60 miles west of Provo. She is best known for her poetry.
Sabbath Evening Prayer
Oh, thou who has all gifts to give,
Be merciful to me
For by thy word alone I live,
Now and eternally.
Thy spirit, striving with me still,
Makes me aware of sin,
And summons up my earnest will
Thy purity to win.
Oh, richly now thy grace impart, –
All things I need of thee, –
I ask the understanding heart,
The eyes, the will, to see;
The quiet mind, the spirit meek,
Wherein I shall, at length
Achieve the victory I seek –
Strong in thy perfect strength.

[H/T to Ardis at Keepapitchinin]
Salvation according to E. T. Woolley
The point of all this is, of course, salvation, and when the Lord speaks to Hyrum Smith in section 11, He tells Hyrum that by seeking wisdom and accepting revelation we can receive Christ and gain salvation. This poem by then-missionary Edwin T. Woolley suggests as much. Woolley was one of the many sons of polygamist Edwin D. Woolley, and is most remembered as a Salt Lake City businessman of the late 19th and early 20th centuries. Born in 1854, he was called on a mission to England in 1884 and apparently composed this poem there, since it was published in the Millennial Star.
The Way to be Saved
If you are honest and longing to see
The kingom of God, and in it would be,
"Know of the doctrine" -the blessings obtain,-
Follow thou the teachings which the Bible makes plain.
CHORUS.

Sing ye His praises, Sing! Sing! Sing!
Sing of the mercy of Jesus our King,
Sing of His Gospel, restored to the earth,
Praise Him with the songs of everlasting mirth.
Ask ye for wisdom, as James has decreed,
And you shall receive according to need;
Then search the Scriptures, desiring the right,
Jesus then will lead you to the Gospel of light.
Plain it must be that John, Peter and Paul,
Taught the same way as the Savior of all;
That way is perfect-improved cannot be-
Christ Himself has shown us, and said, " Come follow me."
The plan is simple, believe on the Lord;
Repent of your sins, saith the holy word;
Immersed in the water-born of the flood-
Gaining then the spirit which will lead us to God.
Power to act in the name of the Son
Was given to man when His kingdom begun;
Duly commissioned His servants will be,
Teaching through obedience that "Salvation is free."